When we talk about ships, we are usually led to think of cruise ships (now renamed giants of the seas), supply vessels, Cargo vessels, Ferry Boats, Fishing vessels and so on. Not many know the Powership: massive ships, which unlike the other ships on which we spend beautiful holidays or carrying goods. A Powership is an exceptional marine vessel - a floating power house resource, with a power generating plant installed on it. Powerships are expected to fulfill from the coast the urged power requirements across the countries mostly in the Middle East, South Asia and in North Africa without permanent power plants onsite. Powerships are no ordinary vessels but are built using special technology. They can be operating in both liquid fuels (HFO/RFO) and natural gas with an option of dual fuels. Suitable for various high voltage levels, these powerships can provide uninterrupted

The power vessel resulting from this project will be able to produce energy with its 16 generators using either fuel oil or liquid natural gas (LNG). That energy will then be supplied as electrical power in remote and developing areas of the world. The project presented many challenges, and it was a fantastic team effort as well as the possibility of having a vast portfolio of pumps of different ranges available. Before speaking of challenges, we must first specify that the shipset included over 72 pumps, with three brands of our CIRCOR brands ALLWEILER, IMO and HOUTTUIN consisting of centrifugal pumps, three-screw pumps, PCP pumps and two-screw pumps. So, let's talk about the complexity of the project, the possibility of offering a unique and complete proposal to the owner and how our knowledge helps to create a suitable selection within our pumps.

The first challenge was with the Sea Water COOLING PUMP. In general, ships use 2 to 3 of these pumps. Instead, our project has 16 pumps (equivalent to 8 times a shipsets) one for each generator which the ship produces power.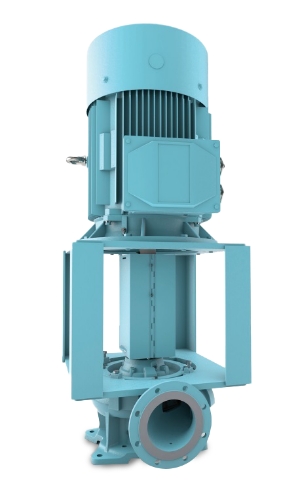 We have selected our MI-S 250-315 (for 1,100 m3/h) among the biggest sizes in our portfolio. This will be a huge job for the foundry, as the casing casting is manually constructed in a very complex job. The second challenge, perhaps the most important, was the Sea Water PUMP CONDENSED STEAM TURBINES. We have selected the new generation pump MA-S 350-315 / 41 (1,800 m3/h) vertical axial intake and radial outlet and again using the largest size in our portfolio. NPSHa was low and the technical specification indicated a vertical pump. We studied many possible solutions, the key moment was certainly when we convinced the customer to consider the possibility of using our special design pump with innovative volute casings. Thanks to this solution, we have significantly improved the value of NPSHr, since our pump does not need an elbow pipe before suction, significantly reducing losses. In addition, we were able to select the pump with the maximum diameter and definitively win the owner's challenge. Other benefits of our MA-S pump, are the unique space-saving foot design offers pump stability in heavy seagoing conditions, and the suction flange's integrated fixing holes allows for pedestal mounting to the ship foundation. Surely we have provided the best technical solution to the shipyard.
The third main challenge was to select the Heavy Fuel Oil TRANSFER PUMP for which we selected the two screw pumps 236.118. We had an important flow (150 m3/h) and very low NPSHa value. For this reason, the selection of a two-screw pump was decisive.